Dental implants are used to replace one or more missing teeth. Due to their stability and durability, only 4 implants are enough to support an entire denture, so even if you have lost the majority of your teeth you can still benefit from the advantages of dental implants with an implant- supported denture.
Having an implant supported denture can give you back the ability to chew and smile like you would with your natural teeth. As you do not need any adhesive to keep your denture in place, it is not only more comfortable but allows you to eat all types of food with confidence and without pain.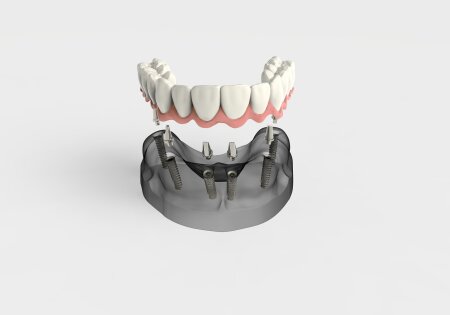 Step by step
The first step is a consultation with your dentist. Based on the medical assessment and the available images (small X-rays and Panoramic X-ray will be made at the consultation if required) a treatment plan will be made for you. Please note that in some cases a CT scan is required for the oral surgeon to plan the implantation.
If you are happy with your treatment plan and ready to start the treatment, an appointment will be booked for you with the oral surgeon for the next step. At this appointment, the surgeon inserts the implants into your jaw bone. Please note that depending on the bone mass in your jaws other procedures such as sinus lift or bone grafting may be required. After the implant placement, a temporary denture can be fitted on top of the implants.
The implant placement is followed by a healing period which can take from 3 up to 6 months depending on the surgical procedure. During the healing period, you will be wearing a temporary denture.
The last step of the process is getting your permanent implant supported denture. Your new implant supported denture will look and function like natural teeth: it does not only change your eating habits but has the potential to improve your overall quality of life by allowing you to smile, laugh and chat with confidence.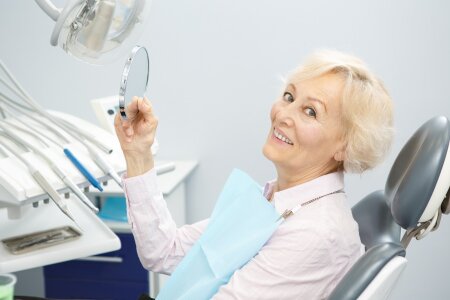 Why choose an implant supported denture?
Getting a dental implant is the most secure way of tooth replacement.
Improved speech and appearance. Your smile will look natural and you do not have to worry about a poor-fitting or sliding denture when speaking.
Comfortable and permanent. You can eat, speak and sleep comfortably without the need of any adhesive.
Easier eating. Implant- supported dentures function like natural teeth, allowing you to chew all types of food without any discomfort.
Easier cleaning. The denture is fitted on top of implants and you do not have to take it out: it can be kept clean with regular daily maintenance (brushing and flossing).
Long-term solution with a warranty period