A dental bridge is a row of crowns meant to replace one or more missing teeth in a row. Bridges are not just aesthetic: they are needed for regular mouth functions, otherwise, you may potentially start to experience further damage.
Comes in regular and zirconium
We provide full arch bridges too
Takes just two visits, and 5-10 business days
We have our own dental laboratory
What is a dental bridge?
A dental bridge is a row of dental crowns or artificial teeth that are set in some kind of artificial gum material or other kind of stabilising materials. The artificial gum is usually resin or a metal base covered with some kind of soft, hypoallergenic material. The crowns can be made of anything, but are usually tooth coloured porcelain with a metal or zirconium internal structure.
Bridges look like a number of teeth next to each other, because that is exactly what they are meant to replace; numerous teeth that are missing next to each other.
Dental bridges are very often the solution to recurring problems and to numerous teeth being bad in the same place. By getting some tooth stubs extracted, or getting them shaped to be able to hold a dental bridge, you will be regaining proper chewing function, which will preserve the rest of your teeth, guaranteeing that they have a longer life.
Also eliminate numerous problems that are caused by chewing only one side, like back and neck pains, TMJ issues, jaw pain and speech impediments.

Dental Bridges W1, Holborn, Camden, Central London
If you have more than one tooth missing, or have a problematic area of the mouth where numerous teeth are compromised, it's time to talk to your dentist about getting dental bridges. This is the easiest and quickest way to regain healthy chewing function and to stop the overall health of your oral cavity from deteriorating.
Call our friendly customer care service and book an appointment today, and have a consultation to see what our dental bridges can do for you!
Traditional dental bridges

These dental bridges work by essentially creating caps that go on top of existing teeth, and covering the edentulous, or toothless area with a bridge. In order to get this kind of dental bridge, you need teeth on both sides of the toothless area (back in the day, just one side was enough, but this puts too much pressure on the tooth acting as the abutment, and can damage the tooth, so is no longer recommended).
The teeth are shaped and filed down, and a crown goes on top of them, and they act as abutments, holding the bridge in place. These dental crowns are adhered to the tooth stubs.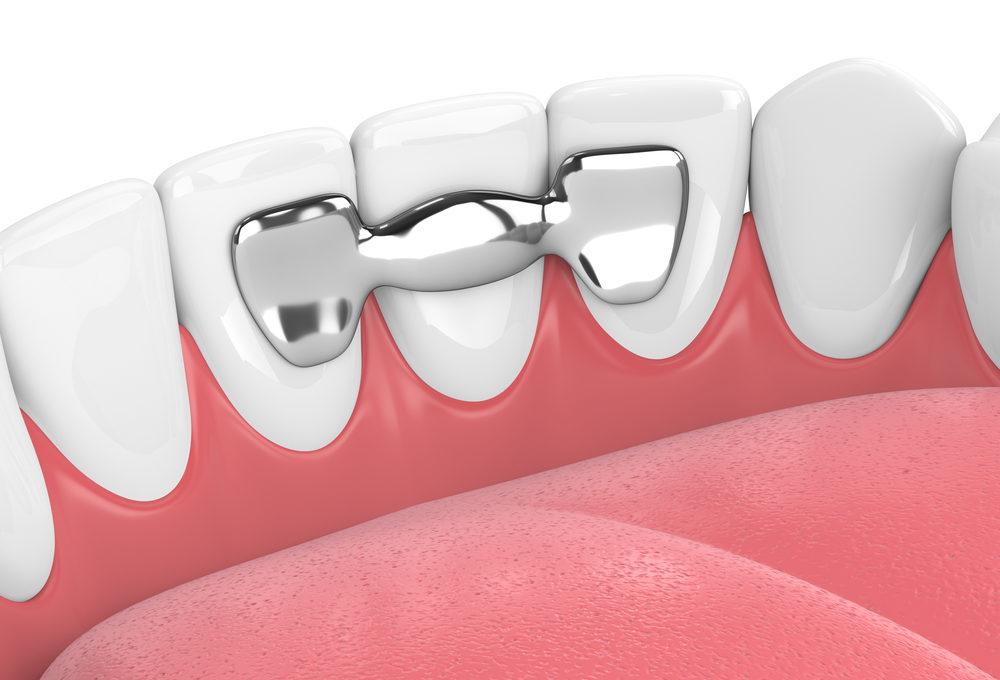 The Maryland bridge
This dental bridge is fairly typical and common.. The Maryland dental bridge requires some additional work on the teeth next to it, because the bridge comes with little wings that attach to the adjacent teeth. These teeth will need to be shaped to be able to hold the wings, and to keep the Maryland bridge stable. Any number of teeth can be replaced using this method, but you do need to have some teeth in the mouth to stabilise the dental bridge.
Dental implant supported bridges
Dental bridges do not necessarily need teeth to hold them in place. Dental bridges can be anchored to the mouth via dental implants, even if there are no teeth on the arch. An entire arch, or just a couple of teeth can both be replaced via dental implant supported bridges; all teeth can be replaced using 4 or 6 dental implants. Although more expensive, there are definite advantages to having this kind of procedure, as you can get fixed or removable dental bridges, and they will be guaranteed to last long, as they will not be linked to a tooth, but rather to a dental implant.

Tooth bridge cost in London
Bridge recementation cost is from £149.