Why do I need a bone graft?
Sometimes there is not enough bone material in your jaw to have a dental implant, and in these cases a bone graft is necessary. After losing a tooth the alveolus disintegrates slowly over time, and the bone density of the jaw drops dramatically, and if you want to replace the tooth, you will have to bone graft. This is an invasive but necessary surgery and requires an X-ray and a preliminary hygiene session.
Strengthen your jawbone
100% synthetic materials available
Hypoallergenic
If there is not enough bone density in your jawbone to house a dental implant, then you need a bone graft. Certain conditions, such as osteoporosis, diabetes, and other illnesses, directly affect the bone density of the jaw, but having a tooth absent for an extended period of time will also result in the decay and disintegration of the jawbone.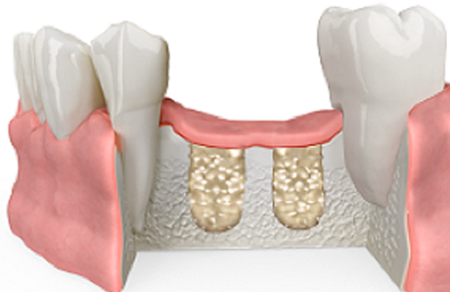 Getting a bone graft
The bone grafting process is simple and easy, but with a healing time that can last for up to six months. The bone graft surgery will take between 30 minutes and one hour, and is an invasive surgery in which your gums will be opened and the bone grafting material, along with the dental implant will be inserted into the jawbone. This surgery is done consciously, under anesthesia. The area will be sewn shut and the bone grafting material allowed to fuse with the cells of your jawbone.
100% synthetic materials
At Forest and Ray we use 100% synthetic bone grafting materials that imitate real bone cells accurately. This is the most hygienic, safe, and easiest way to replace the bone materials, and can be had by any person of any religion, dietary restriction, or belief and is 100% hypoallergenic. The bone graft material is one hundred percent synthetic bone imitation and is also hypoallergenic, so even those with severe allergies can get them. When getting a bone graft, it is important to follow pre and post-operative instructions to the letter to avoid infections.
If you would like to visit an oral surgeon, see if you need a bone graft to secure your dental implants, do not hesitate to call our friendly customer care staff.