All on 4 Dental Implants W1, Holborn, Camden, Central London
Are you missing all your teeth and looking for a way to change your dentures to something permanent and aesthetic?
Ask about "All-on-4 (Same-day teeth)"! The term refers to "all" teeth being supported "on four" dental implants. As a result, just 4 implants can replace all teeth in your upper or lower jaw even in a day!
A predictable and efficient technique
Full-arch restoration
Shorter installation times than other implants
Prevention of further bone loss
Feels like natural teeth
Dental implantation process with All-on-4 (Same-day teeth)
The first step is a thorough consultation at Forest & Ray, where the implantologist explains the procedure, examines your teeth, makes an X-ray, and refers you to a CT scan. We carefully assess all the information. If you are eligible for the treatment and happy with our proposal, we can book you for the implant placement.
On the day of the surgery all 4 implants are inserted in the morning. The procedure is easy and painless (implants are inserted under local anaesthetic) and safe for your health. Our technician will work hard to get your teeth done and within a few hours, you will leave with your brand new smile.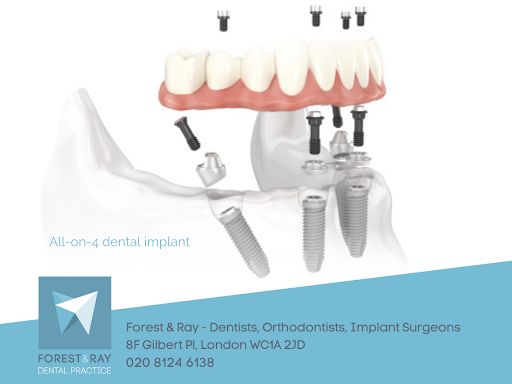 The ultimate healing time, when the implants incorporate into your jawbone, is around 3 months. During this time you will see us a couple of times to monitor your progress. After the healing time, we will prepare your permanent teeth within a few short appointments to make you smile happily every day.
The All-on-4 (Same-day teeth) appointment:
Morning
Surgical appointment: Implant placement under local anaesthesia.
Noon
Our technicians prepare the visible part of your new teeth.
Afternoon
Fitting: the visible part of your new teeth will be fitted. As our Teeth in a Day treatment allows you to speak and smile without worrying about a sliding denture, giving an immense and immediate boost to your confidence within just one day.

Am I a candidate for All-on-4 (Same-day teeth)?
We recommend the Same day teeth to anyone who:
has lost an entire arch of teeth
doesn't want to deal with having to adhere and re-adhere dentures every single day
wants to have a long term, secure solution to tooth loss
Benefits of All-on-4 (Same-day teeth)
The procedure is quick and easy, as all 4 dental implants are inserted at the same appointment, in just one procedure. The procedure itself is painless, as it happens under local anaesthetic.
This method allows for a stable tooth replacement, and allows for easy access and cleaning, due to the little space that is left between the teeth and the gums. The main advantage of this concept is the confidence it gives you at Forest & Ray, you can be sure it is fixed and it fits perfectly, as it is individually tailored to you.
All-on-4 dental implants price in London

The All-on-4 implant (one arch) cost is from £12,500.
The All on 4 implant (both arches) cost is from £22,500.
The All in 4 — Same day implant (one arch) cost is from £16,500.
The All on four — Same day implant (both arches) cost is from £29,000.

All on 4 (Same day teeth) Infographics