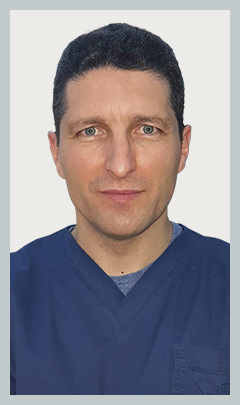 Spoken languages: English, Greek, Serbian
Treatments:
My mission is to give dental implants to my patients, which last for life, and teach my students all my professional knowledge.
I was awarded a Master's degree in Implant Dentistry in 2008 from the University of Manchester. In 2013 I was awarded with the status of Associate Fellow of the Higher Education Academy. Next year I received the Diploma in Conscious Sedation for Dentistry and in 2016 I was admitted as a member of the Royal College of Surgeons of Edinburgh. I have been an active member of the Association of Dental Implantology in the UK, the European Association of Osseointegration and the American Academy of Implant Dentistry. I have published and presented studies, both nationally and internationally and my treatments are evidence based. I started focusing in implant dentistry 12 years ago. I am Specialty Doctor and Clinical Teacher in Oral Surgery at King's College Hospital and Dental Implant Clinician. I particularly enjoy bone and soft tissue grafting techniques. Furthermore, I accept referrals for failed dental implant treatments. Outside implant dentistry, I enjoy traveling, photography, snowboarding and I am a qualified open water scuba diver. My sons are the biggest challenge and aspiration for me.
More information about London Greek Dentists on our dedicated page.