Orthodontists and dentists both help patients improve their oral health, but in different ways. Dentists generally deal with the teeth, gum, nerves, and jaw, while orthodontists specialize on correcting bites, occlusion, and the straightness of teeth. In short, orthodontists are dental specialists.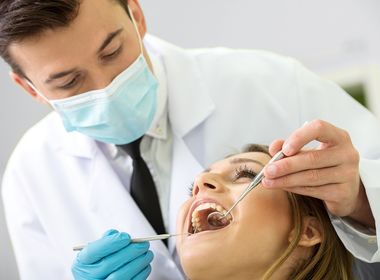 Clarification Needed
If you believe your dentist is also an orthodontist, your confusion is understandable. After all, both dentists and orthodontists work on teeth. Both provide professional care that helps patients have good oral health, and both are dental school graduates. Your dentist may even offer orthodontic services, leading you to assume that he/she is an orthodontist. But the truth is that putting aligners or braces on teeth does not make a doctor an orthodontist.
Dentists, who are also known as general (or family) dentists, are concerned with overall oral health. Dentists treat decayed teeth (fillings) and remove failed teeth (extractions). They usually provide services such as crowns, veneers or bonding to improve the appearance and function of teeth that have extensive decay, or are misshapen or broken. Dentists look for abnormalities in the mouth and teach patients how to prevent dental disease.
As knowledgeable and skillful as dentists are, certain areas of dentistry have educational programs beyond dental school. Orthodontics is one of those areas. And that's where specialists, such as orthodontists, come in. Dental specialists get to be specialists by completing four years of general dental education in dental school, and then continuing in an accredited program where they study their specific specialty full-time for two or more years. When dentists studying a specialty area successfully complete their formal specialty education, they can use a title that denotes their area of specialization. "Orthodontist" is one example.
Other Differences
The biggest difference between an orthodontist and a dentist will be the type of work that they do. In some areas, the work overlaps. For example, both dentists and orthodontists can treat their patients with Invisalign. Most orthodontists, however, do not drill cavities or perform cleanings and most dentists do not prescribe or provide braces. When you need to have your teeth straightened, your dentist will usually recommend that you go and see an orthodontist. When you need your teeth cleaned, your orthodontist will tell you to see a dentist. While many dentists do offer Invisalign, it is usually a good idea to only get your teeth straightening treatment from a doctor who has trained extensively in these types of treatments. He will be able to give you a much more holistic treatment and will be able to help you adjust the treatment to your needs, as necessary.
So, Who Should I Trust With My Smile?
When it comes to orthodontic care here at Forest & Ray, we recommend you see one of our orthodontists. Yes, patients should certainly continue to see a dentist for periodic check-ups and cleaning throughout their orthodontic treatment. But because of the extra education, knowledge, and experience, the orthodontist is the go-to source for straightening teeth and dramatically improving your smile.
So, in a nutshell, when you need your teeth cleaned, you go to a dentist. When you need your teeth straightened, come to an experienced, knowledgeable Forest & Ray orthodontist! We hope to see you soon at our centrally located London clinic.