The National Smile Month campaign is the UK's longest running and most established oral health campaign. The campaign encourages schools, places of employment, and especially dental and health professionals to join in and educate, motivate and communicate with patients and with the general populace in an orchestrated effort to improve the quality of smiles in the UK.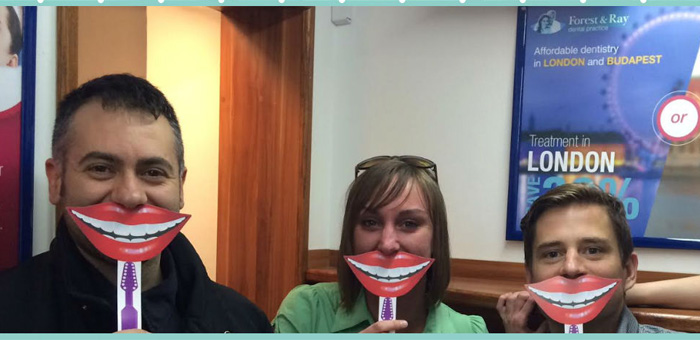 The importance of a healthy smile
Aside from giving you confidence and a boost in your day to day activities, a healthy smile will make you more attractive which will cause society to look at you with different eyes, and to provide you with better opportunities. But aside from purely aesthetic benefits, there are numerous positive health effects to having a beautiful smile, as it implies straighter and whiter teeth. Having an nice smile means:
Social benefits
A great career and relationship booster
A neat and straight row of teeth is better for chewing and digesting food
Speech impediments can be cleared up
May have positive effects on the shape of your face
If you do not look after your teeth, you may find that the effects are more serious than just a toothache. People with bad teeth are more likely to be victims of systemic diseases, fatigue, but more severe problems like dementia, strokes, heart attacks, complications during pregnancy, blood pressure problems and male sexual health issues can also result from a lack of oral hygiene.
The consequences of these over a long period of time, can lead to unnecessary, invasive and expensive dental treatments. There are direct oral health problems that can arise such as gum disease and tooth decay while the repercussions of poor oral health go further than our mouth. Following basic rules and adopting a sensible daily routine should be high on all our agendas. By using National Smile Month as an opportunity to prioritise our oral health, we will soon see what a remarkably positive difference it makes to many aspects of our lives.
What you can do for your smile:
Brush your teeth at least twice a day, once in the morning and before you go to bed. Make sure you use dental floss and a fluoridated toothpaste
Try to limit sugary foods and especially drinks, as soda pop is the most common source of refined sugars in our diet
Make sure you visit your dentist regularly
Our offers
To do our part for National Smile Month, we are offering a special package for patients who choose us during this special time period between May18th and June 18th.Our National Smile Month Package includes 50% off on: