During self-isolation, the daily routine is easily upset, but regular brushing should not be neglected! As a parent, keeping our child's healthy dentures is our responsibility. How to make brushing an enjoyable program at home? We've brought you some tips!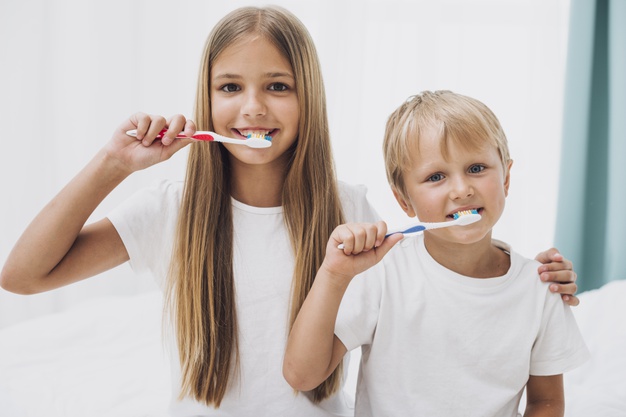 Brushing your teeth can't be started early enough!
There is a common misconception that you should start brushing your toddler's teeth when all of them have grown out. Even a few months old baby's gums need to be cleaned. Dental care habits should be made regular with the appearance of the first deciduous teeth.
In a short time, our child will learn the right brushing technique, however, it is worth checking until the age of six that the cleaning has been done thoroughly.
Synchronized brushing is an excellent way to educate your child about brushing his/her teeth independently. In this case you and child brush your teeth together.
Fun habit
Not all children can be easily persuaded to brush their teeth twice a day. However, parental supervision and motivation can encourage them to do this thoroughly. It helps a lot if our child feels brushing their teeth as a pleasant experience. Here are some tips.
Ideas to make brushing your child's teeth more enjoyable
Today, we find a number of apps that help encourage our child to brush their teeth regularly while collecting virtual rewards.
There are also a number of brushing songs available online, from which we can choose. During brushing, listen to brushing songs together, which lasts at least 2 minutes, like this one:
Toothbrushes and toothpastes designed for children can also help. Let your child choose the best brush he or she likes.
Brushing teeth with role-playing games
Every child loves fairy tales, so we can come up with our own toothbrush fairy tale as well. The point is that you can only save the hero of the tale by brushing your teeth. Teeth can also be symbolized by animals or objects that need careful cleaning. You can also guess other characters, such as the Princess of Enamel or the evil hole-drilling dragons. Let's not limit our imagination!
Dolls invented to develop brushing habits are also available in stores. But we can even buy a toothbrush as our child's favorite toy. The point is, the little ones will be motivated by what happens to their favorite game and if the favorite games brush their teeth too, they will imitate.
Covid19: Our practice remains open to offer help to patients in a dental emergency. Click here to find our opening hours.