Clapham Junction railway station () is a major railway station and transport hub near St John's Hill in the south-west of Battersea in the London Borough of Wandsworth.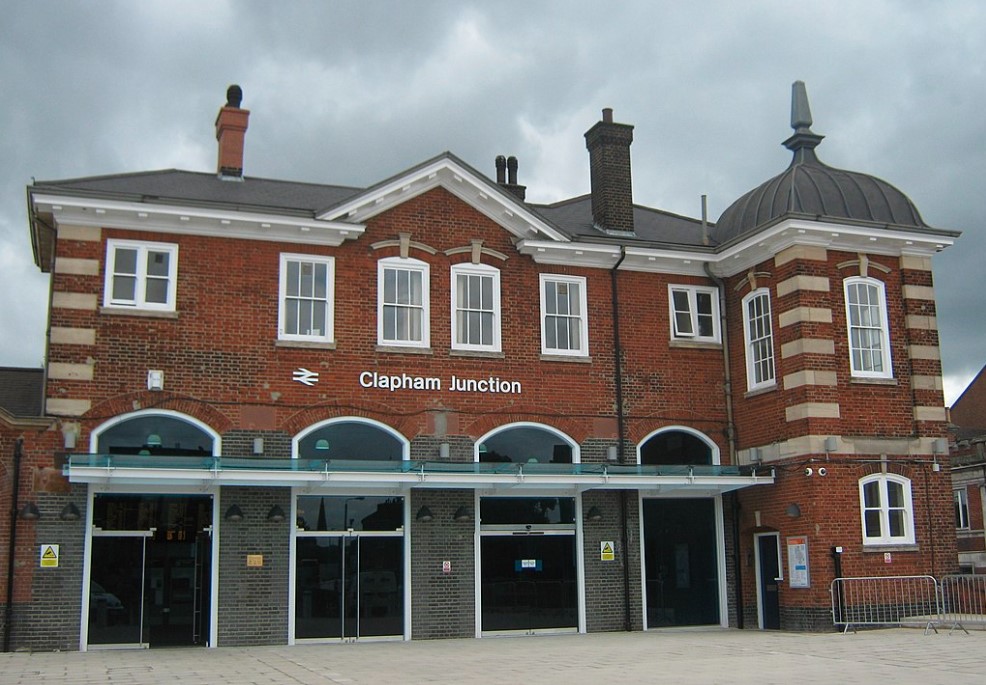 It is 2 miles 57 chains from London Victoria and 3 miles 74 chains from London Waterloo; it is on both the South West Main Line and Brighton Main Line as well as numerous other routes and branch lines passing through or diverging from the main lines at this station. Despite its name, Clapham Junction is not located in Clapham, a district situated approximately 1 mile to the south-east and is instead sited in Battersea.
Routes from London's south and south-west termini, Victoria and Waterloo, funnel through the station, making it the busiest in Europe by number of trains using it: between 100 and 180 per hour except for the five hours after midnight. The station is also the busiest UK station for interchanges between services, and the only railway station in Great Britain with more interchanges than entries or exits.
Each day more than 2,000 trains, over half of them stopping, pass through the station, more than through any other station in Europe. At peak times up to 200 trains per hour pass through of which 122 stop. It is not the busiest station by number of passengers, most of whom (about 430,000 on a weekday, of which 135,000 are at rush hours) pass through. Interchanges make some 40% of the activity and on that basis too it is the busiest station in the UK.
In 2011 the station had three entrances, all with staffed ticket offices, though only the south-east entrance is open 24 hours a day. The most heavily used of the three, this leads from St John's Hill via a small indoor shopping centre into a subway some 15 feet (4.6 m) wide, that connects to the eastern ends of all platforms.
The north entrance, which has restricted opening hours, leads from the Winstanley Estate on Grant Road to the same subway. The subway is crowded during rush hours, with the ticket barriers at the ends being pinch points.
The south-west entrance, also known as the Brighton Yard entrance, as the buildings still bear signage for the London, Brighton and South Coast Railway, has a more traditional appearance, with a Victorian station building set at the back of a large forecourt. This entrance leads to a very wide covered footbridge, which joins the western ends of all platforms. This entrance includes cycle parking and a taxi rank. It was re-opened in May 2011 as part of a wider programme of access improvements that included installing lifts to the platforms.
There are public and disabled toilets at the south-west entrance. There are refreshment kiosks in the subway, on the footbridge and on some platforms; and a small shopping centre, including a small branch of Sainsbury's supermarket, in the south-east entrance.
All South Western Railway services from Waterloo pass through the station, as do Southern and Gatwick Express trains from Victoria. The West London line and South London line services of London Overground have Clapham Junction as one of the termini.
The typical off-peak service of 118 trains an hour comprises:
South Western Railway:
35 tph to London Waterloo
1 tph to Alton
1 tph to Basingstoke (slow)
1 tph to Exeter St Davids via Salisbury
1 tph to Haslemere
1 tph to Portsmouth and Southsea via Haslemere
1 tph to Salisbury (roughly 1tp2h extended to Yeovil Pen Mill)
1 tph to Weymouth
2 tph to Chessington South
2 tph to Dorking via Wimbledon
2 tph to Guildford via Cobham & Stoke d'Abernon
2 tph to Guildford via Epsom
2 tph to Hampton Court via Surbiton
2 tph to Shepperton via Wimbledon
2 tph to Woking (slow)
2 tph to London Waterloo by the Kingston Loop via Wimbledon, Kingston and Richmond
2 tph to London Waterloo by the Hounslow Loop via Brentford, Hounslow and Richmond
2 tph to London Waterloo by the Hounslow Loop via Richmond, Hounslow and Brentford
2 tph to London Waterloo by the Kingston Loop via Richmond, Kingston and Wimbledon
2 tph to Reading via Wokingham
2 tph to Weybridge via Brentford, Hounslow and Staines
2 tph to Windsor & Eton Riverside
Southern:
18 tph to London Victoria
1 tph to Bognor Regis and Portsmouth & Southsea dividing at Horsham
1 tph to Bognor Regis and Southampton Central, dividing at Horsham
2 tph to Littlehampton
2 tph to East Grinstead via Oxted
2 tph to Eastbourne, with 1 continuing to Ore
2 tph to Reigate
2 tph to Dorking via Sutton and Epsom, of which one continues to Horsham
2 tph to Epsom Downs
2 tph to London Bridge via Crystal Palace
2 tph to West Croydon
1 tph to East Croydon via Norbury
1 tph to Watford Junction via Kensington Olympia
London Overground:
4 tph to Dalston Junction via Canada Water
4 tph to Stratford via Highbury & Islington
During peak hours on weekdays express services on the South West Main Line and outer suburban services to Alton and Basingstoke typically do not stop at the station.