Dental avulsion is the complete displacement of a tooth from its socket in alveolar bone owing to trauma. The treatment for permanent teeth consists of replantation, immediately if possible. Deciduous teeth should not be replanted due to the risk of damaging the permanent tooth germ. Immediate replantation ensures the best possible prognosis but is not always possible since more serious injuries may be present.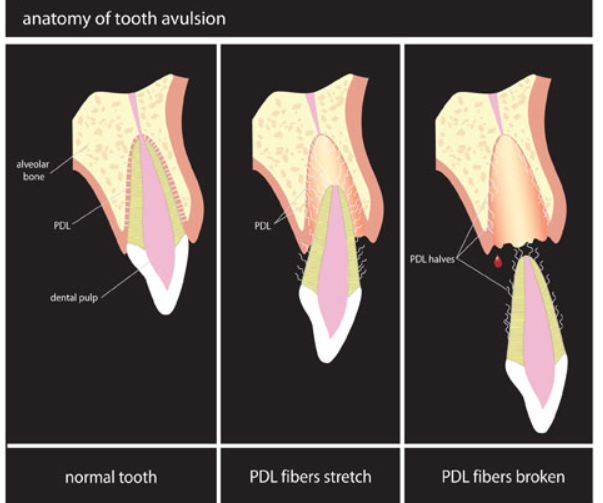 Studies have shown that teeth that are protected in a physiologically ideal media can be replanted within 15 minutes to one hour after the accident with good prognosis. The success of delayed replantation depends on the vitality of the cells remaining on the root surface. In normal conditions, a tooth is connected to the socket by means of the periodontal ligament. When a tooth is knocked out, that ligament stretches and splits in half. Maintaining the vitality of the cells that remain attached to the root surface is the key to success following replantation. Years ago, it was thought that the key to maintaining root cell vitality was keeping the knocked-out tooth wet, thus giving rise to storage media recommendations such as water, the mouth and milk.
Recent research has shown that one of the key elements for maintaining vitality is storing the tooth in an environment that closely resembles the original socket environment. This environment is one that has the proper osmolality (cell pressure), pH, nutritional metabolites and glucose. There are scientifically designed storage media that provide this environment. These storage media are now available in retail products. Use of devices that incorporate the ideal storage media and protective apparatuses have increased the success rate of replanted knocked-out teeth to over 90% when used within sixty minutes of the accident.