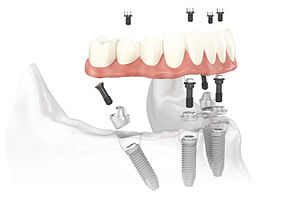 The technique for total rehabilitation of the edentulous, known as the All-on-4 treatment concept, is a surgical and prosthetic medical procedure.
The concept was developed, institutionalized and systematically analyzed in the 1990s through studies funded by Nobel Biocare in collaboration with a Portuguese dentist Paulo Maló. It consists of the rehabilitation of the edentulous maxilla and mandible with fixed prosthesis by placing four implants in the anterior maxilla, where bone density is higher.
The four implants support a fixed prosthesis with 12 to 14 teeth and it is placed immediately on the day of surgery. All-on-4 is a registered trademark of Nobel Biocare.