White Fillings in Central London
The basic reconstructive dental procedure. We work with composite fillings, which are more aesthetic, better for your health and last longer. These, involving the most basic dental procedure there is, can put an end to toothache and halitosis.
Tooth colored fillings
Switch your amalgam fillings to our composite fillings
Quick and easy
The most basic unit of conservative dentistry, tooth fillings- sometimes called dental fillings- are a dental procedure that everyone has heard about. Around 75-80% of adults have tooth fillings, and so it is the most popular and well known method of trying to preserve teeth and to heal them back to functionality.
They are used before problems with the teeth become severe, but when there is already need for intervention. They basically seal off the damaged tooth and repair it so that it can be used again without fear of further damage. Dental fillings can become necessary despite a vigorous at home oral hygiene routine.
What are composite fillings?
Tooth fillings are tiny pieces of composite resin that are inserted into a cavity on a tooth to seal it off for later, and to prevent the tooth enamel from decaying further. Getting a dental filling takes about half an hour to about an hour and a half, depending on how damaged the tooth is, where the cavity is and how easy it is to get to. Before the tooth filling, the decayed bit of your tooth will be scraped away and removed, and the exposed area will be covered with the composite resin tooth filling.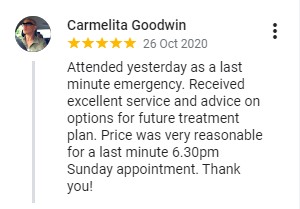 Price of dental fillings
If you check our price list, you may see more than one price listed for our tooth fillings. This is because the price of a tooth filling is based on how much work there is with the tooth before it can receive a dental filling, and how much filling material we need to use; in other words, it depends on how big the cavity we need to fill is. Small fillings are obviously cheaper, whereas large cavities require quite a bit of chair time and a good dollop of composite resin filling material.
If you have a cavity and need a dental filling, give us a call and let our friendly customer care service book an appointment with one of our expert dentists. If you have amalgam fillings, perhaps it is time to get them replaced with our white, composite dental fillings, a procedure that we are also very familiar with.
The price of fillings depends on the difficulty of the procedure, although some categorization can be done in advance: for example, front teeth in general cost less than molars. If you would like to get fillings, just contact our friendly customer care staff.
Are there different kinds of tooth fillings?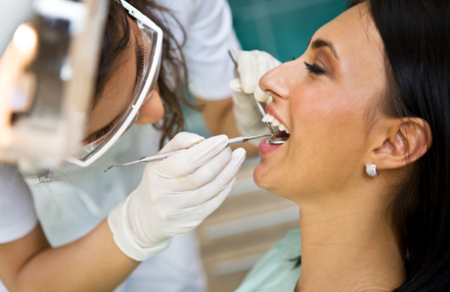 Technically speaking yes, there is more than one kind of dental filling, but we only use composite resin dental fillings for our patients. Why? Because the previously used amalgam dental fillings are bad for your health, are carcinogenic, and leak mercury into the system throughout years of usage. Amalgam fillings are an amalgamation of silver, mercury, tin, and a whole bunch of trace elements, neither of which is particularly good for you.
Amalgam fillings are bad news because it can cause brain damage, cancer, and can constantly weaken the immune system slightly, thus making you overall more prone to infections and less able to fight off microbes and infections. What's more, the Minamata convention has officially made the use of mercury illegal in industry, and is aiming to reduce the use of mercury to absolutely nothing at all. Most countries have signed off on this convention, and it means the end of commercial mercury sales and traffic.
The fillings we use instead are made of a composite artificial resin. This material hardens and sticks to teeth, and does not lose weight like amalgam fillings, and most of all, does not leach mercury. These fillings last somewhat less than amalgam fillings, but their lifespan can still be counted in 5 years' time, and if cared for properly, should last around a decade. The other big bonus for these kinds of fillings is the fact that they are tooth coloured and blend into their surroundings, and look great, and not like a big shadow on your tooth, which amalgam fillings can look like. They also will not stop the tooth from decaying around the dental filling, something that is a big problem with amalgam fillings.
BPA-Free Fillings Are Eco-Friendly
BPA-free fillings are tooth coloured but being eco-friendly, they are green. Learn more here! For a green, eco-friendly dental experience—including BPA free fillings, choose Forest& Ray!
Tooth filling cost in London


The composite

white filling cost

is from £179.
The front tooth filling cost is from £179.

We are located in Camden, Holborn close to Westminster W1 near Soho, London
Our address is: 8F Gilbert Place, London, WC1A 2JD in Holborn right next to Bloomsbury. About Camden: Lincoln's Inn Fields is a neighbourhood in the extreme south of the borough that is only 500 metres from the Thames. The northern part of the borough is home to Kentish Town, Hampstead, and Hampstead Heath, which are less populous districts. Numerous parks and open areas may be found in the London Borough of Camden. City of Westminster (near Soho, London) and the City of London are the next-door boroughs, followed by Brent to the west of what was once Roman Watling Street (now the A5 Road), Barnet and Haringey to the north, and Islington to the east. It encompasses all or a portion of the following postcode areas: N1, N6, N7, N19, NW1, NW2, NW3, NW5, NW6, NW8, EC1, WC1, WC2, W1, and W9.
The borough of Camden also includes Bloomsbury, known for its garden squares. To the west, the fashionable district of Marylebone is rich in shops and restaurants, while the prestigious Mayfair extends slightly into Camden. Covent Garden, famed for its entertainment and market, adds to Camden's vibrancy. Bordering the east of the borough are Clerkenwell and Farringdon, hubs for the design industry and renowned for their mix of old and new architecture. Although Lambeth and South Bank are located south of the Thames and not within Camden, they contribute to the broader cultural scene that Camden residents can easily access. To the east of Camden, beyond Islington, lies the diverse and bustling borough of Hackney, which provides a distinct cultural blend of its own. Wimpole Street and Harley Street (very close to Camden) are famous for the high number of private health care providers, especially dentists.