Airflow teeth polishing is the superior way to remove the stains and discoloration caused by smoking or by drinking red wine, tea, and coffee. it whitens teeth while thoroughly removing  harmful dental plaque. It can be used to clean and open fissures before sealing and is the best cleaning method to use before bonding. It has fast become the go-to teeth cleaning for dental professionals.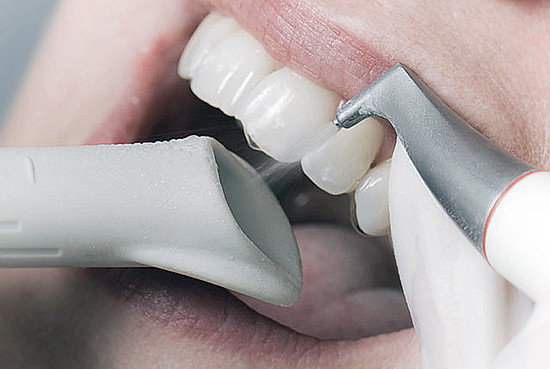 Why Choose Airflow Stain Removal?
Cleaner, whiter teeth not only make you look and feel good, they also ensure fresh breath, help you feel confident, give you a brighter smile, and are a vital part of maintaining healthy oral hygiene.  Airflow polishing is double-good because not is only is it the most effective cleaning method for removing stubborn, unsightly stains, and dangerous plaque but it is also the most comfortable for you, the patient.  Importantly, it can get at plaque below the gum-line to prevent future problems like periodontal disease.
Air polishing, unlike some cleaning procedures, is a painless, fast and non-invasive method of cleaning. The non-toxic powder used in air polishing is also more pleasant and less gritty than the heavy paste used in traditional polishing.  It seemingly doesn't touch the teeth as it thoroughly does the cleaning job. It even comes in flavours, such as spearmint, to enhance the patient's pleasure. And, if you suffer like so many of our patients with sensitivity especially whilst cleaning, then you'll love the air flow polisher.
Additional Airflow Advantages
Airflow polishing is certainly more comfortable than the abrasive cleaning methods of the past.  Because it doesn't come in contact with the teeth and avoids heat and vibration, air flow polishing is ideal for those who suffer from sensitive teeth. But it also has some other benefits which could save you money in the long run.  For example, the high-pressure airflow treatment can blast away at slight decay occurring near the surface of the teeth so that time-consuming and expensive drilling may not be necessary later. Airflow polishing can also encourage the re-mineralization of damaged teeth. Who knows how much costly dental work down the road it may prevent?
To summarize, Airflow teeth polishing is
More effective
More comfortable
Faster
Cost- effective In The Long Term
Ask the dental professionals at the Forest & Ray for more details about the superior Airflow teeth cleaning procedure today!
Air Flow Teeth Cleaning Cost in London
Airflow teeth cleaning cost in London is  from £87 (done by hygienist).
Airflow teeth cleaning
treatment price
is from £117 (done by dentist).