Teeth Whitening W1, Camden, Central London
The main problem that many patients have with their smiles is that they are not confident with the colour of their teeth, and the shades. Fortunately, this works ideally for those patients, this is the easiest remedy with our tooth whitening sessions! This procedure can be performed by a dentist or a dental hygienist, and tooth whitening sessions are the most popular non-reconstructive dental treatment. Below we will hopefully give you all the information you need about our tooth whitening sessions.
Quick whitening
Permanent result
Completely safe methods
What is a tooth whitening session?
A tooth whitening session is when the dentist chemically alters the colour of your teeth and whitens them up to 4-5 shades brighter. This is done by applying a chemical to the teeth and then either shining a light on it to break off the staining agents, or by repeatedly exposing the teeth to the chemicals in question in order to get the stains off.
This procedure is safe and will not harm your teeth or your health. Usually, tooth whitening sessions are coupled with a hygiene session, so it is not purely aesthetic, it has a health benefit as well. The teeth are also frequently polished after a tooth whitening session, making the tooth surfaces smooth and shiny, and making it very difficult for bacteria to start living on the tooth surfaces.
PLEASE NOTE that you must have no lesions in the mouth, no canker sores and no open wounds or trauma to the mouth before starting tooth whitening sessions, or otherwise you run the risk of harming yourself and your soft tissues. Also note that a given set of teeth can only become so much lighter than its original tooth colour. Aside from removing stains, the actual enamel can be lightened, but only up until a certain point.
The two kinds of tooth whitening sessions
At home tooth whitening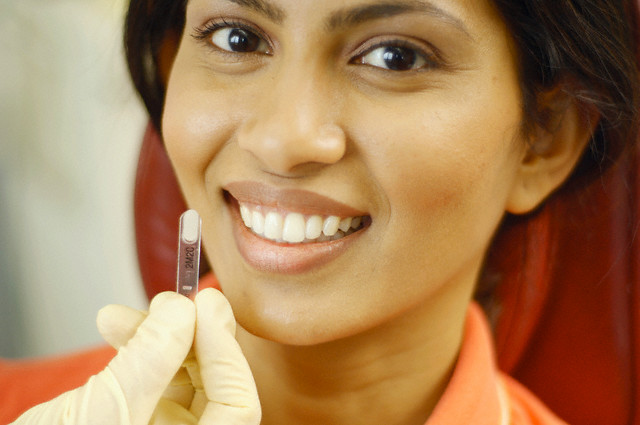 The ever so popular at home tooth whitening sessions rely on the use of the tooth whitening kit. Dentists do not like this method, as the patient can theoretically harm themselves using these tooth whitening kits at home.
All in all, at home tooth whitening makes use of kits that are filled with a tooth whitening gel that is an active ingredient.
The trays with the gel in them go on your teeth, and the gel does its magic. This has to be repeated for a given number of nights, and at the end of the treatment, you will have teeth that are lighter and brighter!
The effect of this kind of treatment usually lasts around 6 months, with the teeth going back to their previous, darker shade slowly but surely.
Chairside tooth whitening sessions
Chairside tooth whitening sessions usually take around 90 minutes. During this time, the dentist will apply a gel to the teeth (one with a higher concentration of active ingredients) and shine a bluish light on the gel to activate it. After 90 minutes (two 45 minute sessions), the teeth will be ready, and several shades lighter.
Tooth whitening gels have come under controversy the last few years, but the issue now seems to be resolved. Ammonium and peroxide was used to whiten teeth up until just a few years ago, and these chemicals are bad for the gums, bad for the tooth enamel, and all around not conducive to human health. These harsh and abrasive chemicals previously used in tooth whitening have been replaced with carboxamides and other less effective ingredients. This may make the sessions take a bit longer, but are completely safe and just as effective at removing stains and whitening the original shade of teeth.
Keep in mind:
The procedure is ineffective in whitening artificial teeth (crowns, bridges, and tooth fillings)
You may experience sensitivity directly after treatment. This is normal and should subside in a few hours
You should avoid food and drinks that can stain your teeth in the few days following a tooth-whitening session
Individual reactions to tooth-whitening may vary, and this can affect the outcome of the whitening session
If you are thinking of whitening your teeth and are looking for an expert cosmetic dentistry to do it in, look no further. We perform tooth whitening sessions in the dentistry and provide at home tooth whitening kits for patients, every day. If you are interested in our tooth whitening sessions, call our expert customer care staff and book an appointment to one of our dentists.
Teeth whitening cost in London

The

teeth whitening cost

is £549.
The whitening home kit cost is £349.